Element Panel Dust Cover
8. February 2022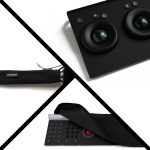 Über-Bundle: Black Aluminium Rings + Dark Petrol-metallic Trackerballs + Dust Cover + Cable Sleeve
8. June 2023
Staywired Pro Flex black cable sleeve (80cm)
15,00 € (excl. VAT)
Staywired Pro Flex black cable sleeve (80cm)
The best-looking and most functional cable sleeve around.
Wrap all USB-cables of your Element panels (and other peripherals on the desk)
into this nice looking, heat-dissipating cable sleeve to tidy up your suite.
Thanks to the two opposing zippers, you can at any time add or remove cable from it within seconds.
– Length: 80 cm
– Color: Black
– Two opposing zippers for flexible cable management
– Inner diameter: 22 mm
– For up to 10 cables
– Outer diameter: 32 mm
– Dirt-repellant double-layer fabric
– Membrane layer
– Anti-static
– Heat-dissipating
– Environment friendly produced
Lieferfrist und Warenverfügbarkeit:
Lieferung innerhalb der EU binnen 1-7 Werktagen
(s. Versandkosten/Lieferbeschränkungen).
Only 4 left in stock
Additional information
| | |
| --- | --- |
| Weight | 0,5 kg |
| Dimensions | 10 × 10 × 8 cm |