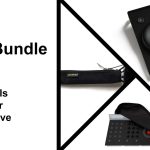 Announcing: The Über-Bundle!
8. June 2023
Pre-Order started: Black Metal Rings for FilmLight Grading Panels!
19. October 2023
We did it again – refurbished an Autodesk Lustre panel!
Hi friends,
there is the day-to-day business and then there are these rare occasions to do something special.
Recently we had the pleasure of refurbishing an ACS – Autodesk Control Surface.
Originally manufactured by Tangent, it shares a lot of components with the CP200 panel.
However, the ACS features bigger displays, an integrated Wacom tablet and most importantly, context sensitive illuminated buttons!
The downside of the ACS is that it's got a soft coated surface, which gets sticky and ugly after years of use.
In the gallery below you can see before and after pictures.
We took the panels apart completey and had all metal casing stripped of the soft coating and then powder coated.
For the rings and encoder knobs we decided to go for a silver metallic coating, that also had a fine-structured finish.
It turned out really nicely – have a look below and see for yourself.
Btw – you can buy it here 😉 .
Cheers,
Mazze